AEW Logo Prism Tie Dye Shirt
The AEW Logo Prism Tie Dye Shirt is a vibrant and visually striking garment that showcases the distinctive in a unique tie-dye design. This shirt is a must-have for fans of AEW who want to display their support for the promotion in a fashionable and trendy way.
The shirt is crafted with high-quality materials, ensuring both comfort and durability. The tie-dye pattern adds an element of fun and nostalgia, making each shirt one-of-a-kind with its own unique color variations and blending.
The centerpiece of the shirt is the AEW logo, which is prominently displayed on the front. The logo represents the brand's commitment to delivering high-energy, action-packed professional wrestling. It features bold, angular lettering in various vibrant colors, creating a sense of excitement and dynamism.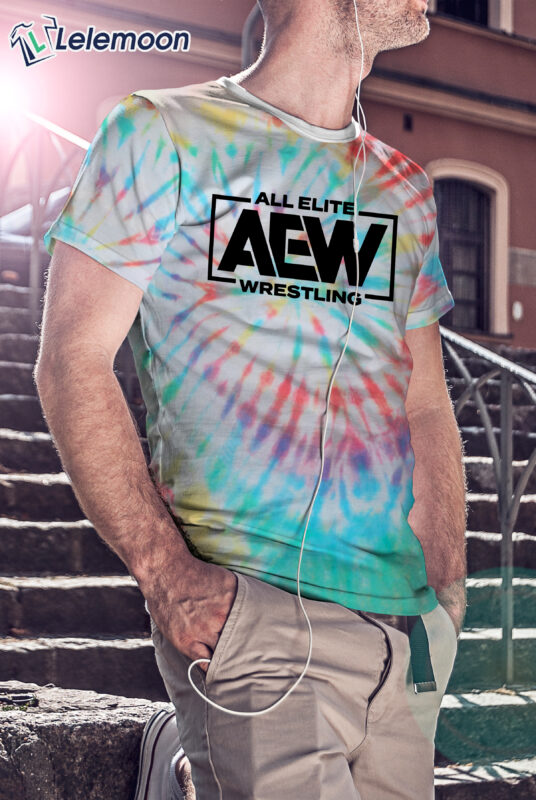 The combination of the tie-dye background and the AEW logo creates a visually appealing contrast, drawing attention to the shirt and making it stand out in a crowd. The shirt's design embodies the spirit of AEW, which embraces innovation, inclusivity, and pushing the boundaries of professional wrestling.
The AEW Logo Prism Tie Dye Shirt is not only a representation of fandom but also a versatile fashion piece. It can be paired with jeans, shorts, or skirts to create a casual and stylish look. Whether you're attending an AEW event, hanging out with friends, or simply expressing your love for professional wrestling, this shirt is the perfect choice.
Overall, the AEW Logo Prism Tie Dye Shirt combines style, comfort, and a love for AEW in a single garment. It allows fans to proudly showcase their support for the promotion while embracing the fashion-forward trend of tie-dye. Get ready to turn heads and let your AEW spirit shine with this vibrant and captivating shirt.