Barbie Karol G Jersey Shirt
Barbie Karol G Jersey Shirt is a fashionable and iconic piece of apparel that pays homage to the collaboration between the famous doll brand Barbie and the Latin music superstar Karol G. This jersey celebrates the fusion of pop culture, music, and fashion in a unique and stylish way.
Featuring a design that typically incorporates elements from Barbie's signature style, such as the Barbie logo and pink color scheme, alongside references to Karol G's music and imagery, this jersey creates a fun and personalized look that represents the collaboration between these two iconic figures.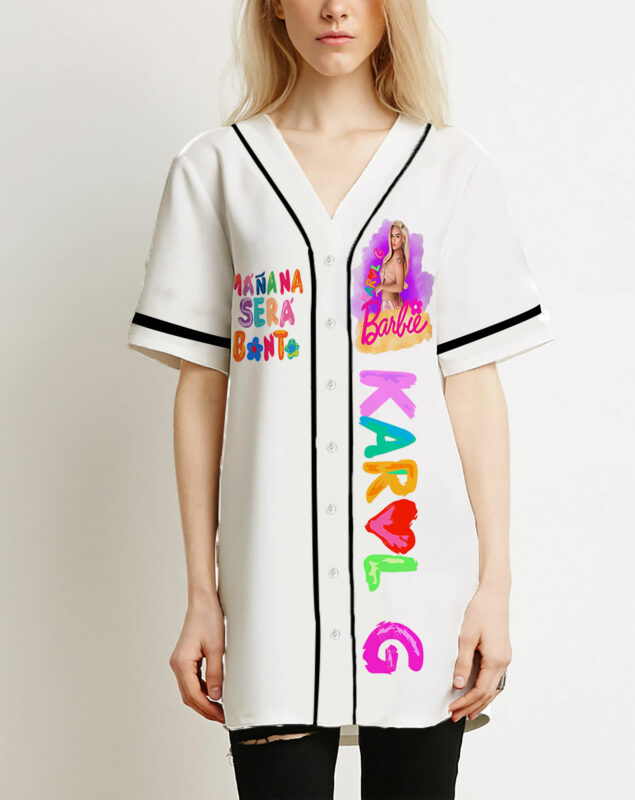 Crafted from high-quality and comfortable fabric, the Barbie Karol G Jersey is suitable for various occasions, from concerts to casual outings. It allows fans of both Barbie and Karol G to express their admiration for these influential figures in a trendy and fashionable manner.
This jersey is more than just clothing; it's a conversation starter and a way for fans to connect with others who appreciate the blend of music and pop culture. It's a symbol of empowerment and creativity, as Barbie and Karol G are known for breaking boundaries and inspiring people worldwide.
In summary, the Barbie Karol G Jersey is a stylish and symbolic tribute to the collaboration between Barbie and Karol G, representing the fusion of fashion, music, and cultural influences. Whether you're attending a concert or expressing your love for these iconic figures, this jersey adds a touch of style and flair to your wardrobe.