Bluey Rad Dad shirt, Hoodie, Sweatshirt, Women Tee
Bluey Rad Dad shirt, Hoodie, Sweatshirt, Women Tee is a trendy and stylish piece of clothing that captures the spirit of fatherhood with a touch of playfulness. Made from high-quality materials, this shirt combines comfort and fashion effortlessly.
Featuring a vibrant shade of blue, the shirt showcases a creative design that perfectly embodies the Bluey brand. The iconic Bluey logo is prominently displayed on the front, adding a pop of color and excitement to the overall look. The logo depicts Bluey, the lovable Australian Blue Heeler pup, with his characteristic big ears and endearing smile.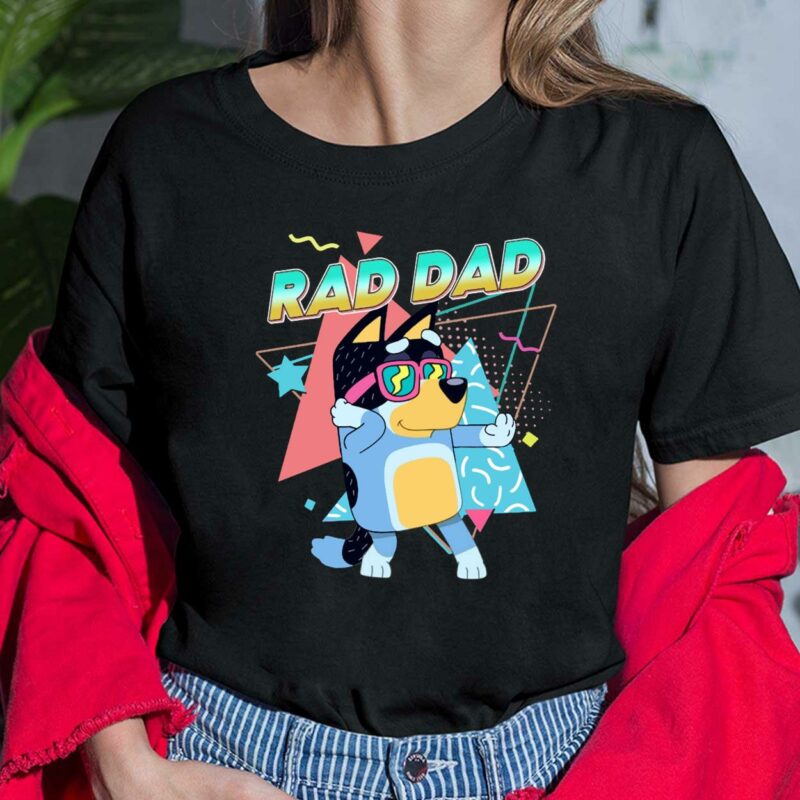 The shirt's fit is relaxed and casual, ensuring both comfort and freedom of movement. It is crafted with attention to detail, including a durable collar and well-finished seams, making it suitable for everyday wear or special occasions.
The Bluey Rad Dad shirt celebrates the joy and adventure of being a dad. It is a statement piece that allows fathers to proudly display their love for their children and their enthusiasm for life. Whether worn while spending quality time with the family or simply as a fashion statement, this shirt is sure to garner attention and admiration.
With its combination of style, comfort, and a playful design, the Bluey Rad Dad shirt is a must-have for any dad who wants to showcase his love for his family and embrace the fun side of fatherhood.
Products Detail:
| | |
| --- | --- |
| Material | Cotton |
| Color | Various Colors |
| Size | From S to 5XL |
| Style option | T-shirts, Hoodies, Tank Tops, Youth Tees, Long Sleeve Tees, Sweatshirts, Unisex V-neck |
| Shipping | From the USA |
| Brand | Lelemoon |