Dada Daddy Dad Bruh Shirt, Hoodie, Sweatshirt, Women Tee
Dada Daddy Dad Bruh Shirt, Hoodie, Sweatshirt, Women Tee is a trendy and playful garment that caters to stylish and cool dads. This shirt features a unique design that combines the words "Dada," "Daddy," and "Dad" in a playful and eye-catching font, along with the slang term "Bruh."
Made with high-quality fabric, this shirt ensures both comfort and durability. Its relaxed fit and versatile style make it suitable for various occasions, whether it's a casual day out or a family gathering.
The Dada Daddy Dad Bruh Shirt celebrates the modern and dynamic nature of fatherhood, blending traditional titles with contemporary slang. It embraces the fun and relatable aspects of being a dad in today's world, adding a touch of personality and humor to your wardrobe.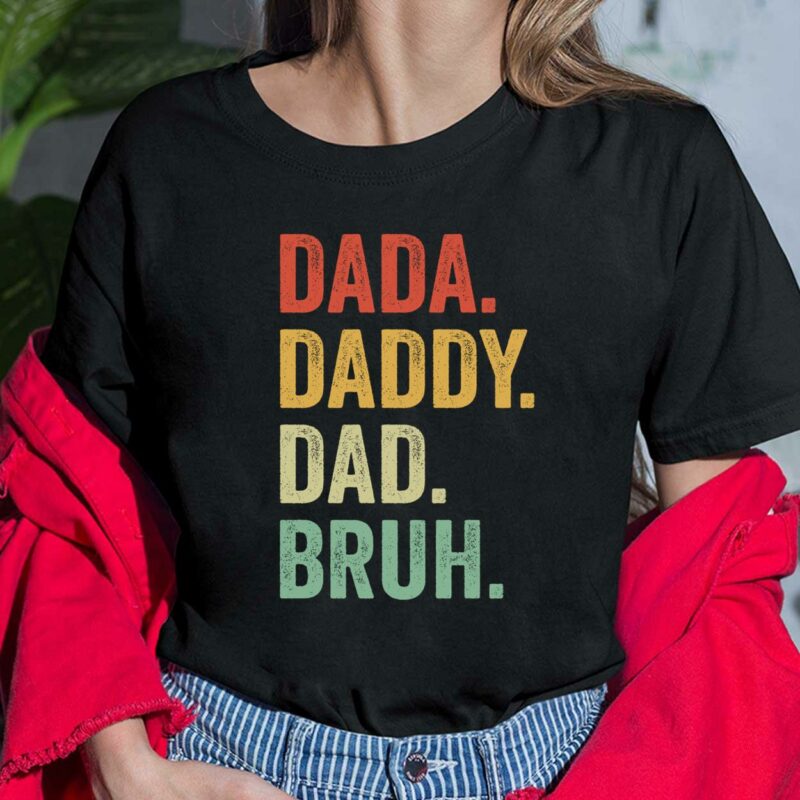 By wearing the Dada Daddy Dad Bruh Shirt, you can proudly display your love for your children while keeping up with the latest fashion trends. It's a statement piece that showcases your individuality and showcases your pride in being a dad.
So, if you're a cool dad looking to make a statement, the Dada Daddy Dad Bruh Shirt is the perfect choice. Its unique design and comfortable fit will make it a go-to item in your wardrobe, allowing you to express your love for your family in a fashionable and playful way.
Products Detail:
| | |
| --- | --- |
| Material | Cotton |
| Color | Various Colors |
| Size | From S to 5XL |
| Style option | T-shirts, Hoodies, Tank Tops, Youth Tees, Long Sleeve Tees, Sweatshirts, Unisex V-neck |
| Shipping | From the USA |
| Brand | Lelemoon |