Dear Person Behind Me I Hope Today Doesn't Suck Lots Of Love The Person In Front Of You Shirt, Hoodie, Sweatshirt, Women Tee
Dear Person Behind Me I Hope Today Doesn't Suck Lots Of Love The Person In Front Of You Shirt, Hoodie, Sweatshirt, Women Tee
is a positive and uplifting message that has become popular on a range of clothing items, including shirts, hoodies, sweatshirts, and women's tees.
These garments feature the message in a fun and playful font, creating a cheerful and friendly vibe. They are made from high-quality materials and are designed to be comfortable and long-lasting, making them ideal for everyday wear or as a thoughtful gift for a friend or loved one.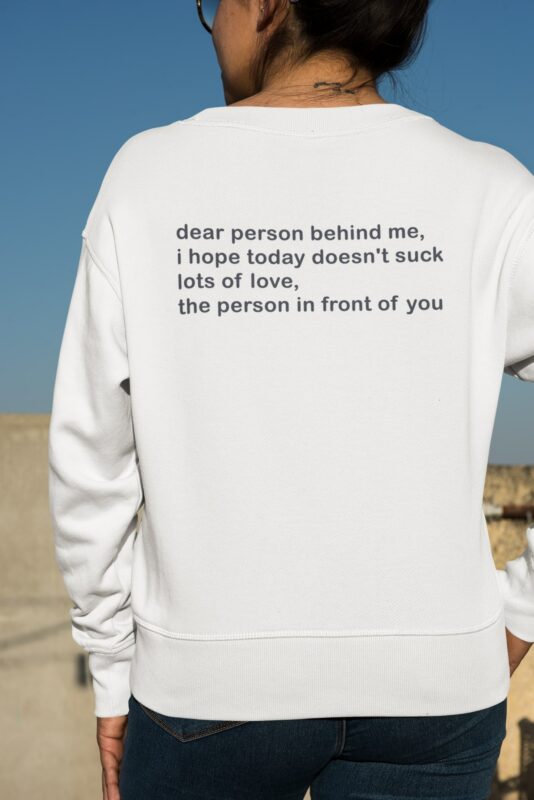 The shirt, hoodie, and sweatshirt options offer a relaxed and casual fit, perfect for lounging or running errands. They come in a variety of sizes, ensuring a comfortable fit for everyone.
The women's tee option is designed to accentuate the female figure and is available in a range of colors to suit any personal style. It is a versatile piece that can be dressed up or down, making it perfect for any occasion.
Overall, these garments are a great way to spread positivity and brighten someone's day. They serve as a reminder to be kind to one another and to spread love and positivity wherever we go.
Products Detail:
| | |
| --- | --- |
| Material | Cotton |
| Color | Various Colors |
| Size | From S to 5XL |
| Style option | T-shirts, Hoodies, Tank Tops, Youth Tees, Long Sleeve Tees, Sweatshirts, Unisex V-neck |
| Shipping | From the USA |
| Brand | Lelemoon |