Don'T Be A Lady Be A Legend Shirt
Don'T Be A Lady Be A Legend Shirt is a powerful and empowering garment that encourages individuals to break free from societal expectations and embrace their inner greatness. With its bold message, this shirt inspires people to go beyond traditional definitions and become extraordinary in their own unique ways.
The design of the shirt features impactful typography that prominently displays the phrase "Don't Be a Lady, Be a Legend." This message challenges conventional norms and encourages individuals, regardless of gender, to rise above limitations and strive for greatness.
Made from high-quality fabric, this shirt combines style and comfort. Its design exudes confidence and strength, empowering the wearer to embrace their individuality and unleash their full potential. The bold colors and striking typography create a visually captivating shirt that stands out and makes a statement.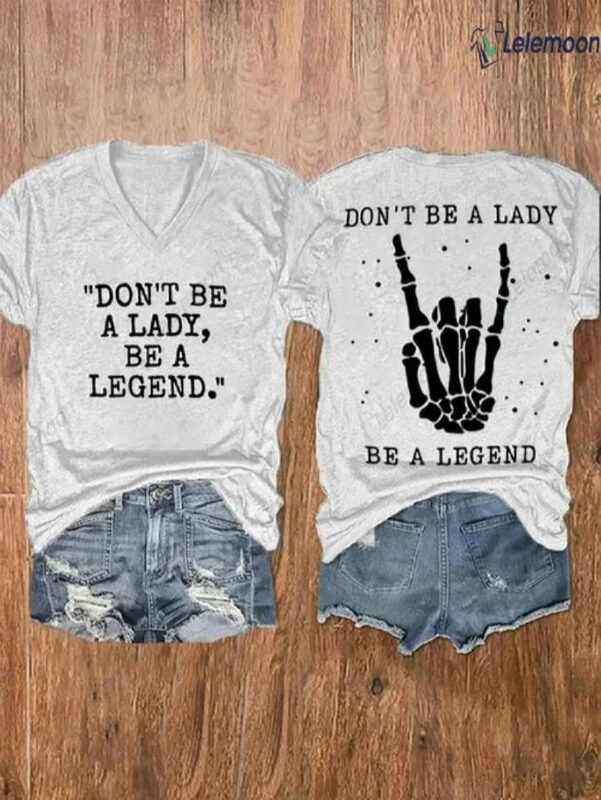 Don'T Be A Lady Be A Legend Shirt  is suitable for various occasions where self-expression and empowerment are celebrated. Whether it's a casual outing, a social gathering, or an event promoting gender equality and empowerment, this shirt serves as a reminder to break free from societal expectations and be true to oneself.
Wearing this shirt is a powerful statement of embracing individuality, defying stereotypes, and aspiring for greatness. It encourages individuals to believe in their own abilities and to become legends in their own right. It's a reminder that everyone has the potential to leave a lasting impact and inspire others through their unique qualities and achievements.
Products Detail:
| | |
| --- | --- |
| Material | Cotton |
| Color | Various Colors |
| Size | From S to 5XL |
| Style option | T-shirts, Hoodies, Tank Tops, Youth Tees, Long Sleeve Tees, Sweatshirts, Unisex V-neck |
| Shipping | From the USA |
| Brand | Lelemoon |