Farm Fresh Christmas Tree est 1935 Sweatshirt
The Farm Fresh Christmas Tree Est. 1935 Sweatshirt is a charming and nostalgic piece of apparel that captures the spirit of the holiday season. This cozy sweatshirt pays homage to a tradition that has been cherished since 1935, making it the perfect addition to your winter wardrobe.
Crafted with the utmost care and attention to detail, this sweatshirt features a timeless design. The front showcases a beautifully embroidered emblem, displaying a rustic farmhouse with a festive Christmas tree adorned with twinkling lights and ornaments. The rich, deep green of the tree contrasts beautifully with the snowy white background, evoking the cozy ambiance of a winter wonderland.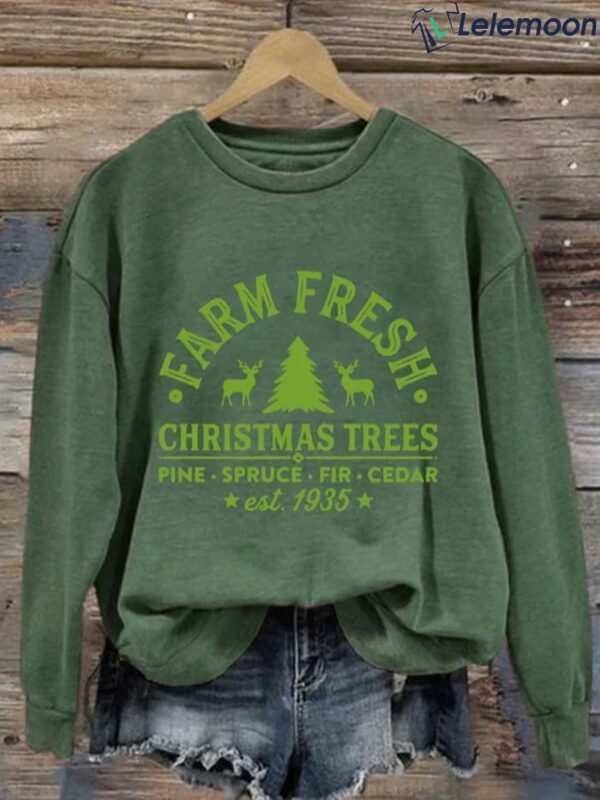 Made from premium-quality, soft, and breathable fabric, this sweatshirt is designed for both style and comfort. Its relaxed fit ensures ease of movement, making it an ideal choice for those chilly evenings spent decorating the tree or gathering with loved ones by the fireplace.
Wearing the Farm Fresh Christmas Tree Sweatshirt isn't just about fashion; it's about embracing tradition and celebrating the joy and togetherness that the holiday season brings. Whether you're trimming the tree, sipping hot cocoa, or singing carols, this sweatshirt is the perfect way to share in the warmth and nostalgia of Christmas past and present. Get ready to make lasting memories in this timeless piece of festive fashion.
Products Detail:
| | |
| --- | --- |
| Material | Cotton |
| Color | Various Colors |
| Size | From S to 5XL |
| Style option | T-shirts, Hoodies, Tank Tops, Youth Tees, Long Sleeve Tees, Sweatshirts, Unisex V-neck |
| Shipping | From the USA |
| Brand | Lelemoon |