Garfield Enemy Of The State Shirt
The Garfield Enemy Of The State shirt is a playful and humorous garment that showcases the beloved character Garfield, the famous orange tabby cat from the iconic comic strip. This shirt takes a lighthearted approach by humorously portraying Garfield as an "enemy of the state," playing on the contrast between his mischievous nature and the seriousness associated with that phrase.
The design of the shirt features a bold and eye-catching image of Garfield, wearing a mischievous grin and sporting a hat with the words "Enemy of the State" printed on it. The image captures Garfield's distinct personality and brings a sense of playful rebellion to the design.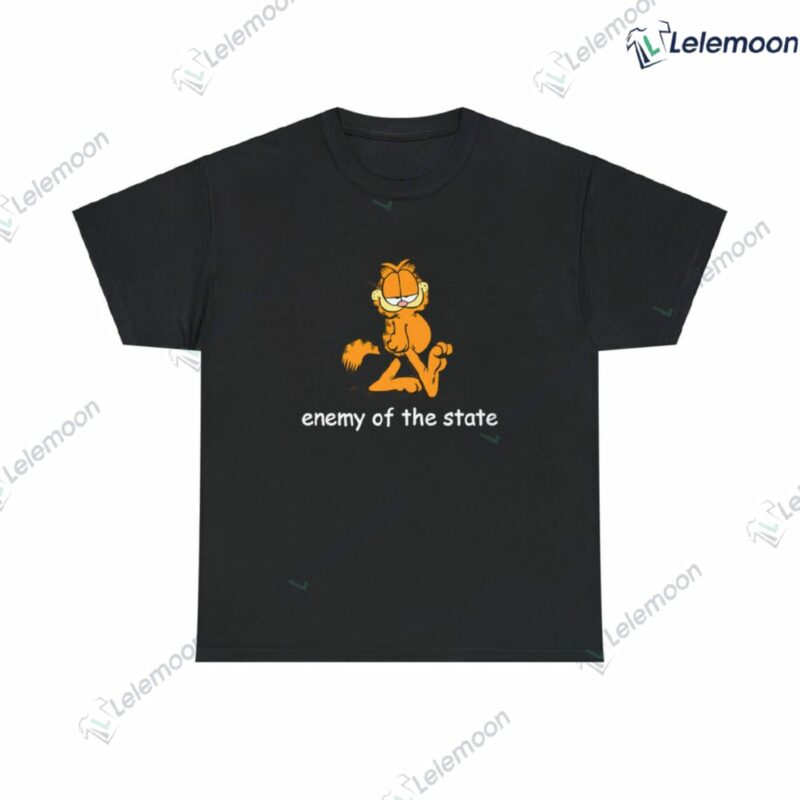 Crafted from comfortable and durable fabric, the shirt ensures a pleasant wearing experience. It is available in various sizes, catering to different body types and preferences. Whether worn as a casual and amusing outfit choice or as a statement piece, the Garfield Enemy Of The State shirt is sure to bring smiles and spark conversations among fans of the iconic comic strip.
Overall, this shirt celebrates the irreverent and mischievous nature of Garfield, inviting wearers to embrace their own playful side. It captures the charm and humor that has made Garfield a beloved character for decades and adds a touch of rebelliousness to everyday fashion. The Garfield Enemy Of The State shirt is a delightful choice for Garfield fans who appreciate the comic strip's timeless humor and its lovable, lasagna-loving feline protagonist.
Products Detail:
| | |
| --- | --- |
| Material | Cotton |
| Color | Various Colors |
| Size | From S to 5XL |
| Style option | T-shirts, Hoodies, Tank Tops, Youth Tees, Long Sleeve Tees, Sweatshirts, Unisex V-neck |
| Shipping | From the USA |
| Brand | Lelemoon |