Halloween Lumberjack Costume All Over Adult T-Shirt
The Halloween Lumberjack Costume All Over Adult T-Shirt is a fun and festive piece of clothing designed for Halloween enthusiasts and those looking to embrace the rugged and iconic lumberjack look during the holiday season.
This unique T-shirt boasts an all-over print that transforms the wearer into an instant lumberjack character. The design includes a realistic and detailed representation of classic lumberjack elements, such as a red and black checkered pattern, an axe, a plaid shirt, and even a beard, all integrated seamlessly into the fabric. This all-over print creates the illusion of a complete lumberjack costume without the need for additional clothing items.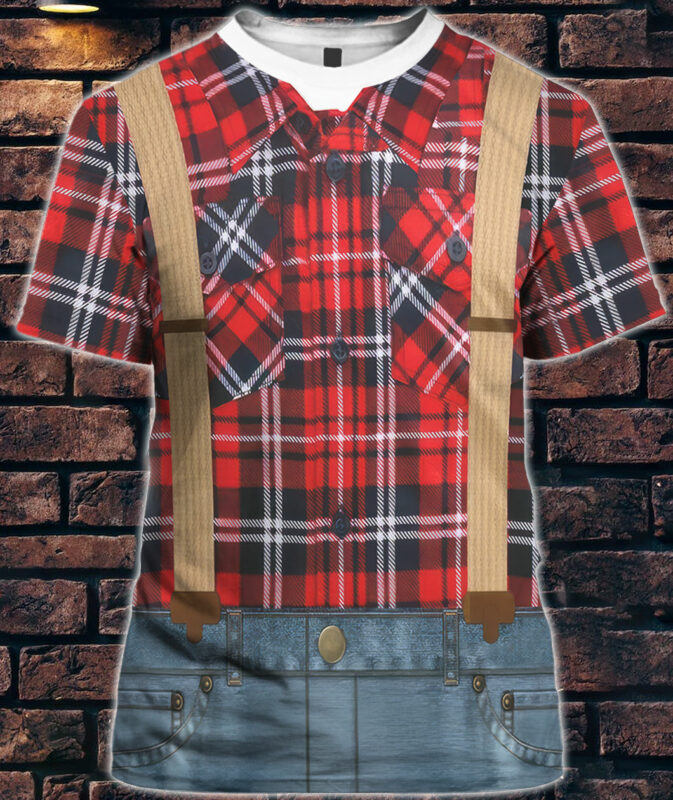 Crafted from comfortable and breathable fabric, this T-shirt ensures a cozy fit for adults of all sizes. Whether you're attending a Halloween party, going trick-or-treating, or simply getting into the spirit of the holiday, this T-shirt is a hassle-free way to embody the lumberjack persona.
With its eye-catching design and playful approach to Halloween costume ideas, the Halloween Lumberjack Costume All Over Adult T-Shirt allows you to celebrate the holiday in style and comfort. It's a convenient and fun way to participate in the Halloween festivities while paying homage to the timeless and rugged lumberjack aesthetic. Get ready to channel your inner lumberjack and enjoy the Halloween season to the fullest with this creative and entertaining T-shirt.