Hell Is Real Shirt, Hoodie, Sweatshirt, Women Tee
Hell Is Real Shirt, Hoodie, Sweatshirt, Women Tee is a provocative and bold piece of clothing that sparks contemplation and discussion on existential and philosophical themes. With its striking design and thought-provoking message, this shirt challenges traditional beliefs and encourages deep reflection.
Crafted from high-quality fabric, this shirt offers comfort and durability. The soft and breathable material ensures a comfortable fit, making it suitable for everyday wear. It features a classic crew neck and short sleeves, providing a versatile and timeless look.
The front of the shirt showcases the phrase "Hell Is Real" in a bold and captivating typography. This statement serves as a reminder of the existence of various interpretations of hell across different cultures, religions, and belief systems. It invites individuals to ponder existential questions, explore personal philosophies, and engage in meaningful conversations.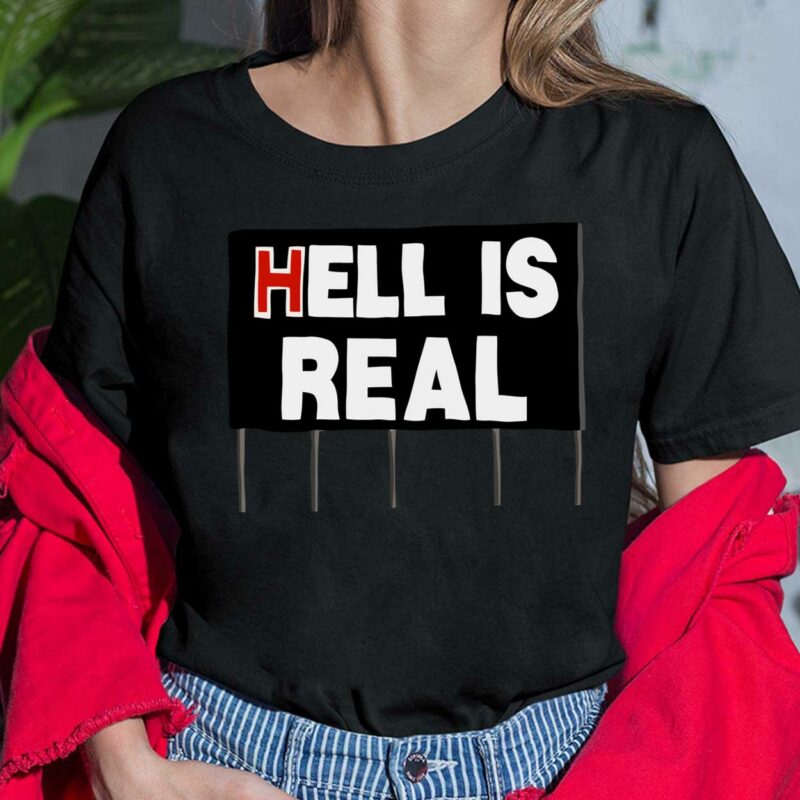 The design of the shirt is minimalist yet impactful, allowing the message to take center stage. Its versatility enables it to be paired with different styles of bottoms, from jeans and shorts to skirts and trousers. Whether you wear it for casual outings, social gatherings, or as a conversation starter, the "Hell Is Real" shirt is bound to elicit curiosity and stimulate meaningful discussions.
It's important to note that the shirt's message may be interpreted differently by individuals based on their beliefs and personal philosophies. It's designed to provoke thought rather than promote a specific religious or philosophical perspective.
By wearing the "Hell Is Real" shirt, you're expressing a willingness to explore existential questions and engage in intellectual discourse. It can serve as a catalyst for conversations about spirituality, morality, and the nature of existence.
The "Hell Is Real" shirt is a powerful statement piece that encourages contemplation and embraces the diversity of perspectives on the concept of hell. It challenges conventional wisdom and invites individuals to explore their own beliefs and philosophies.
Products Detail:
| | |
| --- | --- |
| Material | Cotton |
| Color | Various Colors |
| Size | From S to 5XL |
| Style option | T-shirts, Hoodies, Tank Tops, Youth Tees, Long Sleeve Tees, Sweatshirts, Unisex V-neck |
| Shipping | From the USA |
| Brand | Lelemoon |