Hey Batter Batter Swing Sweatshirt
Hey Batter Batter Swing Sweatshirt is not only stylish and comfortable, but also versatile. It can be worn for a range of activities, including working out, running errands, or just lounging at home. Its casual yet eye-catching design is perfect for adding a pop of personality to any outfit.
The "Hey Batter Batter Swing" phrase is a playful and timeless nod to baseball, making it a great choice for both fans of the sport and those who just enjoy the fun and relaxed aesthetic. The graphic on the front is simple yet bold, making it a statement piece that is easy to style with other items in your wardrobe.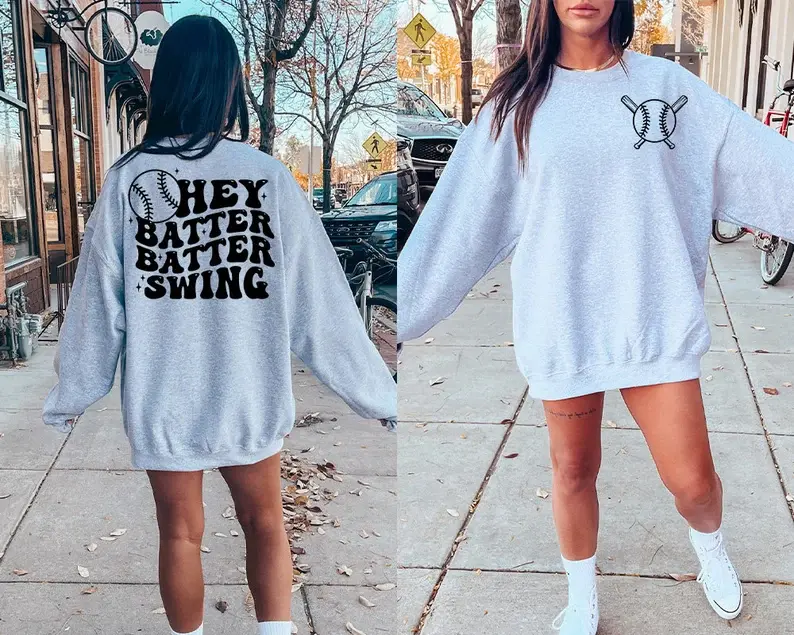 The sweatshirt is available in a range of sizes, ensuring a comfortable and flattering fit for all body types. Whether you prefer a loose or fitted style, this sweatshirt can be easily customized to suit your personal style.
Overall, the "Hey Batter Batter Swing" sweatshirt is a versatile and trendy piece that is sure to become a staple in your wardrobe. With its comfortable fit, durable fabric, and playful design, it's a great choice for any casual occasion. Whether you're a baseball fan or just looking for a fun and comfortable sweatshirt, this piece is sure to be a hit.