In My Dance Mom Era Sweatshirt
Step into a world where the echo of dance rehearsals and the thrill of recitals are forever etched in memory with the In My Dance Mom Era Sweatshirt. This cozy apparel is more than just fabric; it's a celebration of the tireless dedication and boundless love of dance moms everywhere.
Picture the days spent in dance studios, the joy of watching your little one pirouette and leap, the sense of accomplishment that only a dance recital can bring. The In My Dance Mom Era Sweatshirt encapsulates the essence of these moments, weaving together the threads of passion and pride.
Crafted with the perfect blend of comfort and nostalgia, this sweatshirt features intricate designs that pay homage to the dance world. Ballet slippers, jazz hands, and rhythmic patterns adorn the fabric, evoking the energy and vibrancy of dance. Each detail is a reminder of the countless hours spent supporting and encouraging young dancers.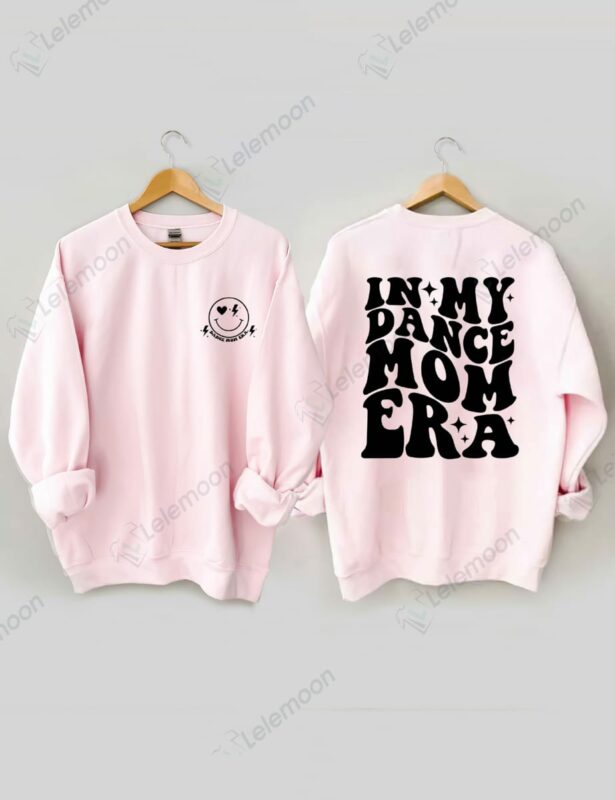 Wearing this sweatshirt is like enveloping yourself in the spirit of dance, a dedication that knows no bounds. It's a conversation starter, an invitation for fellow dance moms to share their stories, their triumphs, and their cherished memories. As you slip it on, you become a part of a community that understands the exhilaration of dance performances and the bonds forged backstage.
In My Dance Mom Era Sweatshirt doesn't just honor the past; it connects you to a legacy. It's a reminder that the journey of a dance mom is one of love, sacrifice, and endless inspiration. Whether you're wearing it to a dance event or simply as a cozy reminder at home, this sweatshirt lets you carry the rhythm of the dance mom era with you, always.
Products Detail:
| | |
| --- | --- |
| Material | Cotton |
| Color | Various Colors |
| Size | From S to 5XL |
| Style option | T-shirts, Hoodies, Tank Tops, Youth Tees, Long Sleeve Tees, Sweatshirts, Unisex V-neck |
| Shipping | From the USA |
| Brand | Lelemoon |