In My Soccer Mom Era Sweatshirt
Step into a world where cheering on the sidelines and celebrating victories become part of your everyday rhythm with the In My Soccer Mom Era Sweatshirt. This comfortable attire is more than just a garment; it's a tribute to the unwavering support and dedication of soccer moms everywhere.
Imagine the camaraderie of the soccer field, the excitement of each match, and the bonds formed with fellow parents. The "In My Soccer Mom Era" sweatshirt encapsulates the essence of these memories, weaving together the threads of passion and pride.
Crafted for both comfort and nostalgia, this sweatshirt features thoughtful designs that pay homage to the world of soccer. Cleats, soccer balls, and field markings decorate the fabric, evoking the energy and excitement of the game. Each detail serves as a reminder of the countless hours spent on the sidelines, cheering on young athletes.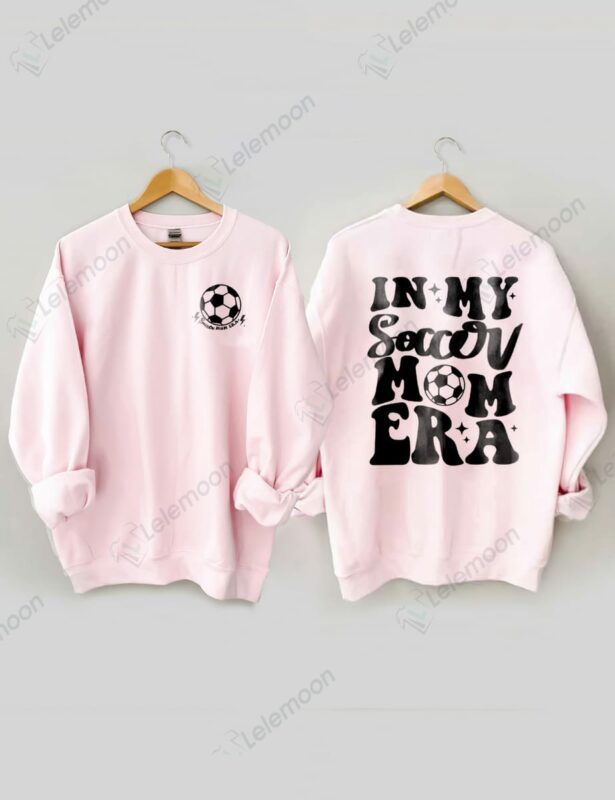 Wearing this sweatshirt is like wrapping yourself in the spirit of the sport, a dedication that knows no bounds. It's an invitation for fellow soccer moms to share stories, swap strategies, and relive the exhilaration of game days. As you don this attire, you become part of a community that understands the joy of seeing a child's passion for soccer flourish.
In My Soccer Mom Era Sweatshirt doesn't just celebrate the past; it connects you to a legacy. It's a reminder that the journey of a soccer mom is one of sacrifice, encouragement, and boundless pride. Whether you wear it to a match or as a cozy reminder of your role, this sweatshirt allows you to carry the essence of the soccer mom era with you, wherever you go.
Products Detail:
| | |
| --- | --- |
| Material | Cotton |
| Color | Various Colors |
| Size | From S to 5XL |
| Style option | T-shirts, Hoodies, Tank Tops, Youth Tees, Long Sleeve Tees, Sweatshirts, Unisex V-neck |
| Shipping | From the USA |
| Brand | Lelemoon |