Introducing Rainbow Punch From Kool Aid shirt
The Introducing Rainbow Punch From Kool Aid shirt is a vibrant and energetic piece of apparel that showcases the iconic and refreshing drink, Kool-Aid. This shirt serves as a playful and nostalgic tribute to a beloved beverage that has brought joy to countless individuals for generations.
The design of the shirt features a dynamic and eye-catching image of a glass filled with colorful Kool-Aid. The vibrant hues and splashes of various shades create a visually striking representation of the drink's rainbow of flavors. The Kool-Aid Man, the beloved mascot of the brand, is depicted bursting through the glass, exuding enthusiasm and excitement.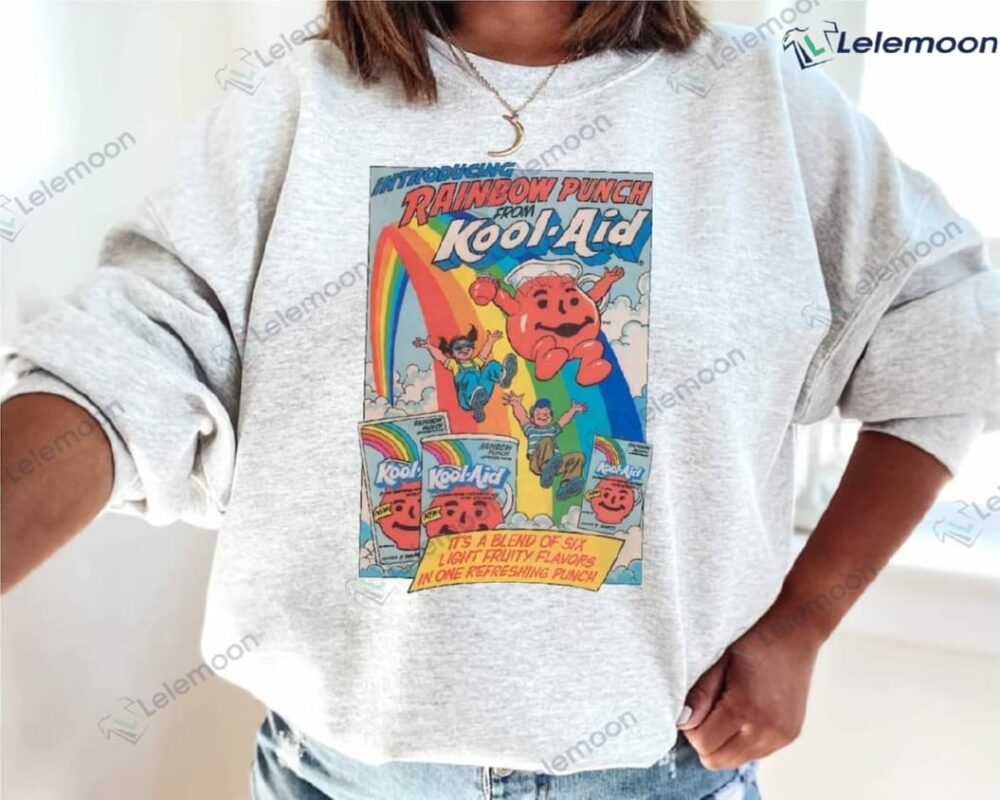 Accompanying the design is the phrase "Introducing Rainbow Punch From Kool-Aid," displayed in a bold and playful font. This statement captures the sense of anticipation and delight associated with trying a new Kool-Aid flavor. It invokes a sense of nostalgia for those who grew up enjoying Kool-Aid and introduces a sense of curiosity for those who may be discovering it for the first time.
Crafted from comfortable and durable fabric, the shirt ensures a pleasant wearing experience. It is available in various sizes, catering to different body types and preferences. Whether worn as a casual and fun outfit choice or as a nostalgic statement piece, the Introducing Rainbow Punch From Kool-Aid shirt is sure to evoke smiles and spark conversations among those who appreciate the iconic drink.
Overall, this shirt celebrates the playful and refreshing nature of Kool-Aid, inviting individuals to reminisce about their favorite childhood memories and embrace the joy that comes with trying new flavors. It pays homage to a beloved beverage and invites wearers to embrace their inner child while enjoying the vibrant and flavorful world of Kool-Aid.
Products Detail:
| | |
| --- | --- |
| Material | Cotton |
| Color | Various Colors |
| Size | From S to 5XL |
| Style option | T-shirts, Hoodies, Tank Tops, Youth Tees, Long Sleeve Tees, Sweatshirts, Unisex V-neck |
| Shipping | From the USA |
| Brand | Lelemoon |