Jimmy Buffett Didn't Die For You To Be Sober On A Friday Night Shirt, Hoodie, Sweatshirt
Jimmy Buffett Didn't Die For You To Be Sober On A Friday Night Shirt captures the free-spirited essence of Jimmy Buffett's music and the laid-back lifestyle he embodies. This shirt is a playful and witty nod to the carefree attitude of Parrotheads, Jimmy Buffett's devoted fans.
Emblazoned with clever text and possibly featuring vibrant, tropical-themed graphics, this shirt exudes a sense of escapism and fun. It's a reminder to live life to the fullest, embracing the spirit of music, which often celebrates relaxation, good times, and the pleasures of life.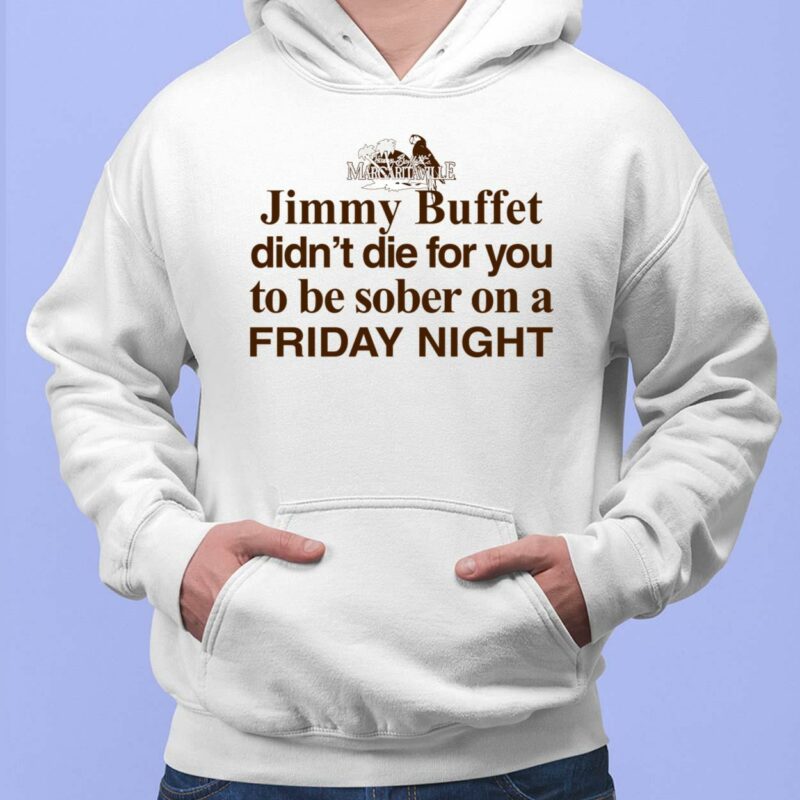 This shirt is not just a piece of clothing; it's a statement of rebellion against the mundane, particularly on a Friday night when people typically seek to unwind and let loose. It suggests that Jimmy Buffett, a legendary figure in the world of music known for his Margaritaville philosophy, would prefer his fans to embrace the party spirit rather than remain sober.
Crafted from comfortable and durable materials, this shirt is perfect for casual occasions, whether you're at a beach party, a tropical-themed gathering, or simply enjoying a night out with friends. It's a conversation starter and an emblem of the carefree. Wearing it is a way to honor his legacy and carry on the tradition of living life in a laid-back, joyful way.
Products Detail:
| | |
| --- | --- |
| Material | Cotton |
| Color | Various Colors |
| Size | From S to 5XL |
| Style option | T-shirts, Hoodies, Tank Tops, Youth Tees, Long Sleeve Tees, Sweatshirts, Unisex V-neck |
| Shipping | From the USA |
| Brand | Lelemoon |