Kamado Demon Slayer Corps Baseball Jersey
The Kamado Demon Slayer Corps Baseball Jersey is a captivating blend of pop culture and sports attire, inspired by the popular anime series. This jersey seamlessly fuses the world of demon-fighting warriors with the aesthetics of a classic baseball jersey, resulting in a unique and eye-catching garment.
Drawing inspiration from the Demon Slayer Corps, the jersey showcases intricate design elements that pay homage to the elite group of characters within the anime. The jersey's fabric features a comfortable fit and is adorned with distinctive black and white colors, reminiscent of the Demon Slayer uniforms. The iconic Demon Slayer Corps emblem is prominently displayed on the chest, embodying the valor and unity of the characters in their battle against demons.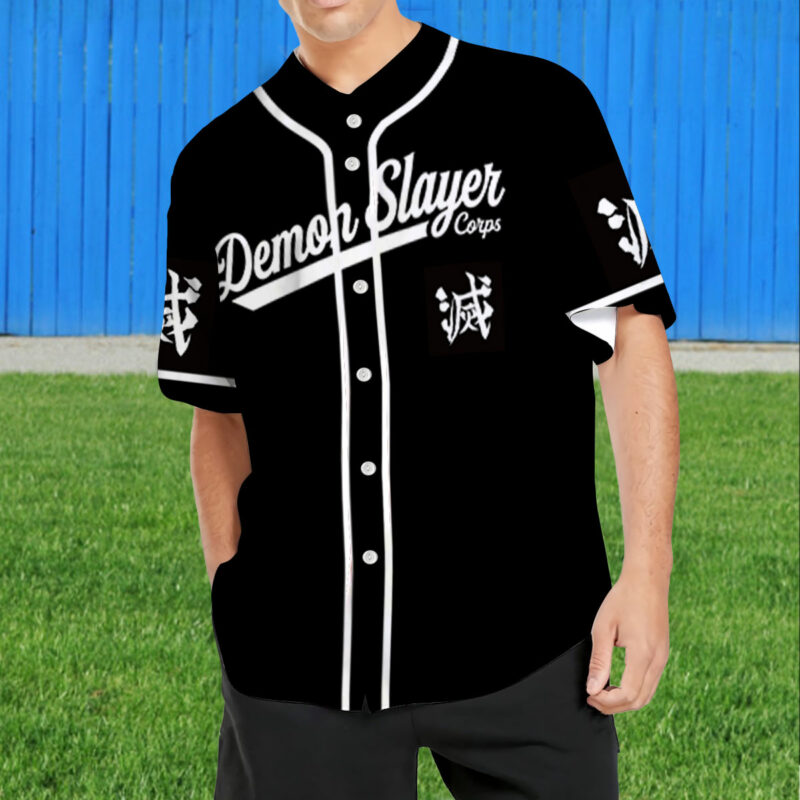 While the jersey retains the traditional baseball jersey silhouette, it cleverly incorporates the anime's theme with subtle touches, such as kanji characters and patterns that evoke the series' atmosphere. This fusion of anime aesthetics with sportswear creates a one-of-a-kind statement piece that appeals to both fans of the show and sports enthusiasts.
The Kamado Demon Slayer Corps Baseball Jersey serves as more than just clothing; it's a conversation starter, a way for fans to express their love for the anime, and a symbol of belonging to a community that appreciates the captivating story and characters. Whether worn to anime conventions, sporting events, or casual outings, this jersey bridges the gap between two worlds, showcasing the wearer's passion for both sports and anime culture.