Kitty Biscuits You Need Em We Knead Em Cat Shirt
Kitty Biscuits You Need Em We Knead Em Cat Shirt is a whimsical and adorable piece of clothing that cat lovers will adore. This shirt combines humor and feline-inspired puns to create a delightful fashion statement for those who appreciate the charm of our furry friends.
The design of the shirt features a cute and lovable cat illustration, capturing the essence of these playful creatures. The cat is depicted in a kneading position, a common behavior exhibited by cats when they are content and comfortable. Surrounding the cat are vibrant and colorful illustrations of cat-shaped biscuits, adding a touch of whimsy to the design.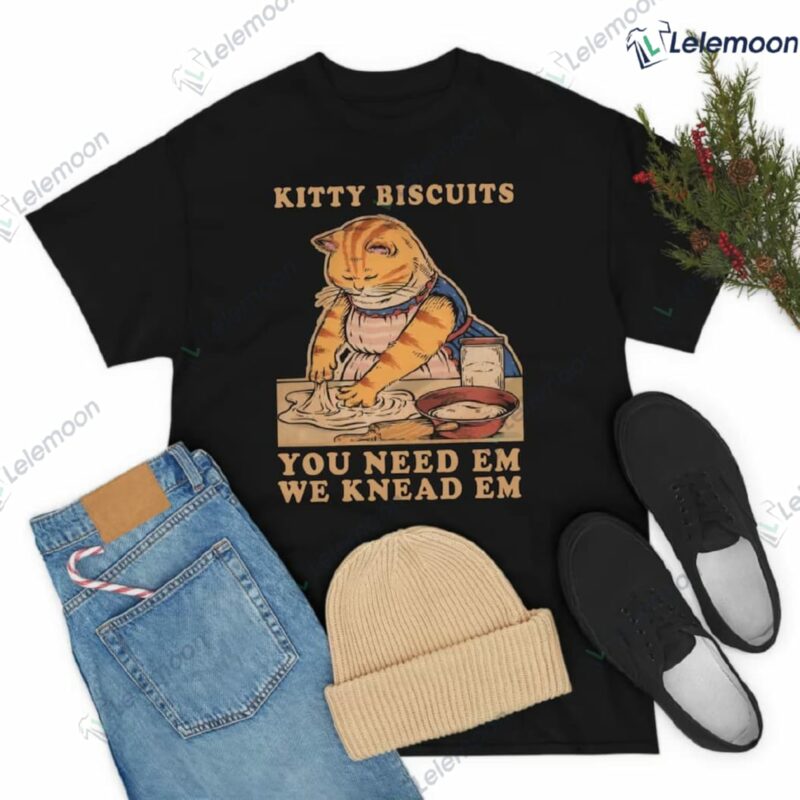 The phrase "You Need 'Em, We Knead 'Em" is cleverly incorporated into the design, using a playful font that adds to the shirt's overall charm. This phrase plays on the wordplay between "knead" and "need," highlighting the cats' affectionate kneading behavior while humorously suggesting that we all need the presence and love of our feline companions in our lives.
Crafted from soft and comfortable fabric, the shirt ensures a pleasant wearing experience. It is available in various sizes, catering to different body types and preferences. Whether worn as a casual everyday outfit or as a statement piece, the Kitty Biscuits "You Need 'Em, We Knead 'Em" Cat shirt is bound to bring smiles and laughter to cat lovers and anyone who appreciates a touch of humor in their fashion choices.
Overall, this cat shirt is a delightful blend of cuteness, humor, and feline-themed puns. It celebrates the joyful and playful nature of cats while playfully reminding us of the happiness and companionship they bring to our lives. A perfect choice for cat enthusiasts, this shirt is a charming addition to any wardrobe and a sure conversation starter among fellow feline lovers.
Products Detail:
| | |
| --- | --- |
| Material | Cotton |
| Color | Various Colors |
| Size | From S to 5XL |
| Style option | T-shirts, Hoodies, Tank Tops, Youth Tees, Long Sleeve Tees, Sweatshirts, Unisex V-neck |
| Shipping | From the USA |
| Brand | Lelemoon |