My Greatest Blessing Calls Me Bruh Shirt
My Greatest Blessing Calls Me Bruh Shirt is a lighthearted and affectionate garment that celebrates the special bond between individuals, highlighting the endearing term "bruh" as a term of endearment. This shirt showcases a playful and heartwarming message that expresses the love and closeness shared between you and your greatest blessing.
Crafted from soft and comfortable fabric, the shirt offers a relaxed and casual fit, making it perfect for everyday wear. The design features a fun and eye-catching text arrangement, with "My Greatest Blessing" and "Calls Me Bruh" displayed prominently. The contrasting colors and playful typography add to the shirt's charm.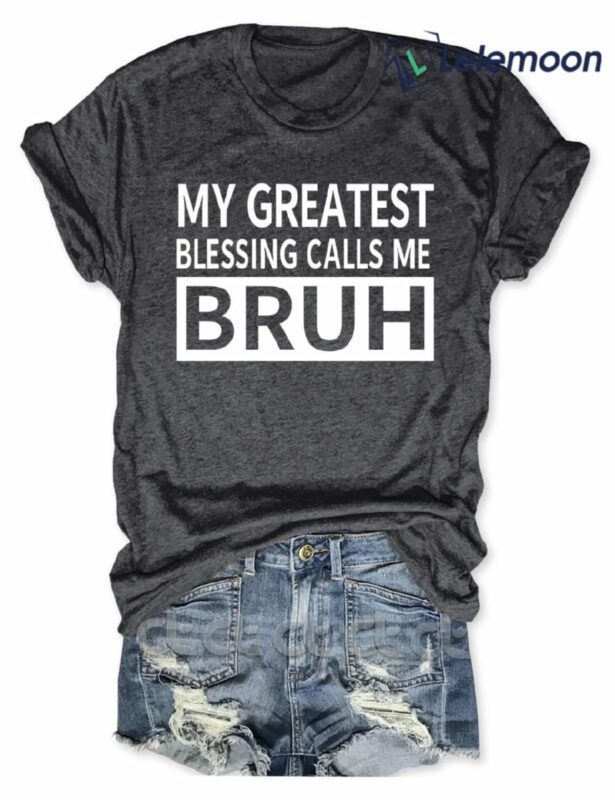 With its short sleeves and classic crew neck, the shirt provides a versatile style that can be easily paired with different outfits. The fabric is lightweight and breathable, ensuring all-day comfort. Whether you're spending quality time with your loved ones, running errands, or simply embracing a casual and affectionate vibe, the "My Greatest Blessing Calls Me Bruh" Shirt is a delightful and expressive choice.
This shirt celebrates the special bond and affection between individuals, emphasizing the unique and endearing ways we refer to our loved ones. It serves as a reminder of the love and happiness that comes from treasured relationships. Wear the "My Greatest Blessing Calls Me Bruh" Shirt proudly, and let it be a symbol of the affectionate connection you share with your loved one.
Products Detail:
| | |
| --- | --- |
| Material | Cotton |
| Color | Various Colors |
| Size | From S to 5XL |
| Style option | T-shirts, Hoodies, Tank Tops, Youth Tees, Long Sleeve Tees, Sweatshirts, Unisex V-neck |
| Shipping | From the USA |
| Brand | Lelemoon |