Peyton Manning The Eras Tour Shirt, Hoodie, Sweatshirt, Women Tee
Peyton Manning The Eras Tour Shirt, Hoodie, Sweatshirt, Women Tee is a special commemorative garment that pays tribute to the legendary football career of Peyton Manning. This shirt is a must-have for fans and admirers of one of the greatest quarterbacks in history.
Designed with a unique and captivating style, the shirt showcases various significant moments from Manning's career. It features a collage of images that represent different eras of his illustrious journey, from his college days to his professional achievements. The graphics are vibrant and meticulously crafted, capturing the essence of Manning's impact on the game.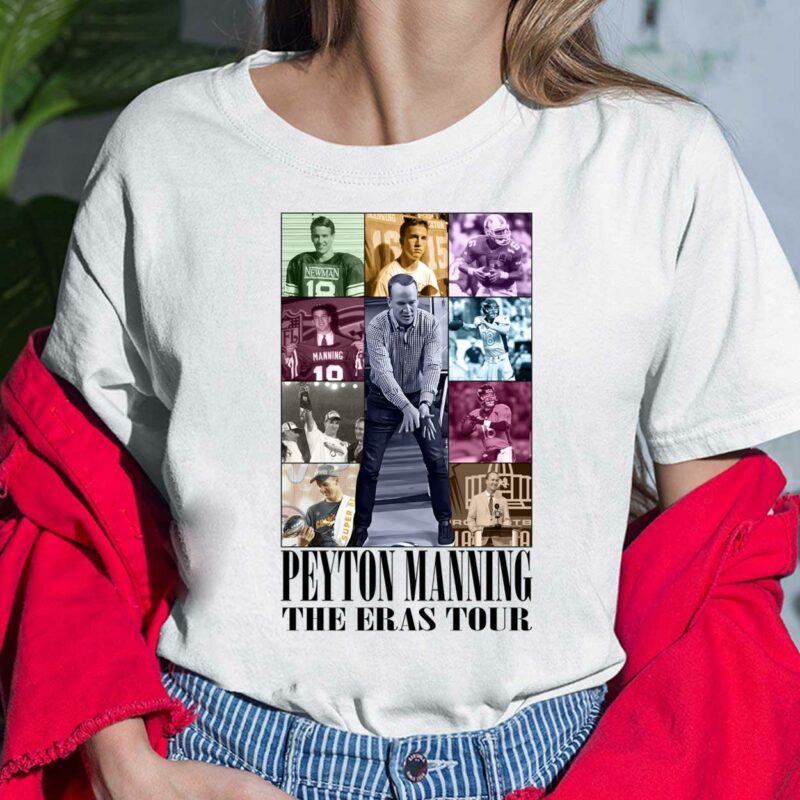 Crafted with the utmost attention to detail, this shirt is made from high-quality materials that ensure both comfort and durability. The fabric is soft and breathable, making it suitable for everyday wear or sporting events. The shirt is designed with a regular fit, providing a relaxed and comfortable feel.
The Peyton Manning The Eras Tour Shirt is not just a piece of clothing but a symbol of respect and admiration for one of the all-time greats. It allows fans to showcase their appreciation for Manning's remarkable career and the indelible mark he left on the sport.
Whether you're attending football games, engaging in casual activities, or simply want to honor Manning's legacy, this shirt is a perfect choice. It lets you proudly display your support for a true football icon and serves as a reminder of the incredible moments he brought to the game. Get ready to celebrate Peyton Manning's extraordinary career by wearing this shirt and joining The Eras Tour.
Products Detail:
| | |
| --- | --- |
| Material | Cotton |
| Color | Various Colors |
| Size | From S to 5XL |
| Style option | T-shirts, Hoodies, Tank Tops, Youth Tees, Long Sleeve Tees, Sweatshirts, Unisex V-neck |
| Shipping | From the USA |
| Brand | Lelemoon |