Proud Member Of The Spooky Squad Sweatshirt
Step into a world where eerie excitement and bold individuality converge with the Proud Member Of The Spooky Squad Sweatshirt. This comfortable garment is more than just clothing; it's an affirmation of your unique taste and your love for all things mysterious.
Imagine being part of a group that finds beauty in the dark, magic in the mysterious, and joy in the spooky. The Proud Member Of The Spooky Squad Sweatshirt captures the essence of this camaraderie, weaving threads of enchantment and boldness.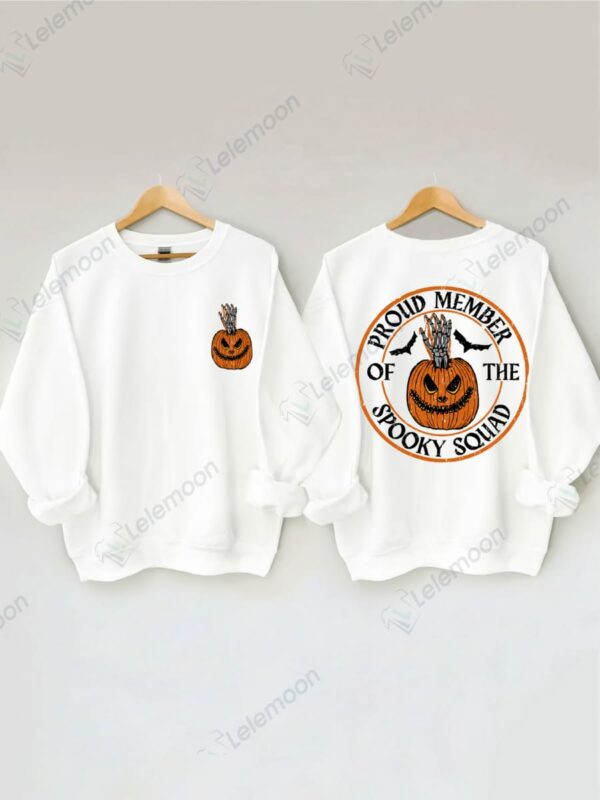 Crafted with a blend of comfort and quirky charm, this sweatshirt showcases intricate designs that celebrate the spooky spirit. From haunting symbols to moonlit landscapes, the fabric embodies the allure of the unknown. Each detail is a reminder of the strength found in embracing what sets you apart.
Wearing this sweatshirt is like wearing your heart on your sleeve, proudly announcing your affinity for the enigmatic and the unconventional. It's an invitation for kindred spirits to join your spectral journey, to share ghost stories, and to celebrate the beauty in the shadows.
Proud Member Of The Spooky Squad Sweatshirt isn't just an outfit; it's a statement of identity. It's a reminder that being different is a strength, and that there's a world of wonder beyond the mundane. Whether you wear it as a badge of honor during spooky season or as a cozy reminder of your unique spirit, this sweatshirt allows you to stand boldly as a proud member of the spooky squad, unapologetically embracing the mysteries that life holds.
Products Detail:
| | |
| --- | --- |
| Material | Cotton |
| Color | Various Colors |
| Size | From S to 5XL |
| Style option | T-shirts, Hoodies, Tank Tops, Youth Tees, Long Sleeve Tees, Sweatshirts, Unisex V-neck |
| Shipping | From the USA |
| Brand | Lelemoon |