Red White And Busch Light Tank Top
Red White And Busch Light Tank Top is a festive and lighthearted garment that combines the patriotic colors of the United States with a popular American beer brand, Busch Light. It captures the spirit of celebration and enjoyment during patriotic holidays and social gatherings.
This tank top features a design that incorporates the classic red, white, and blue colors, representing the patriotic pride of America. Alongside these colors, the phrase "Red White and Busch Light" is prominently displayed, celebrating the fusion of American patriotism and the enjoyment of a refreshing beverage.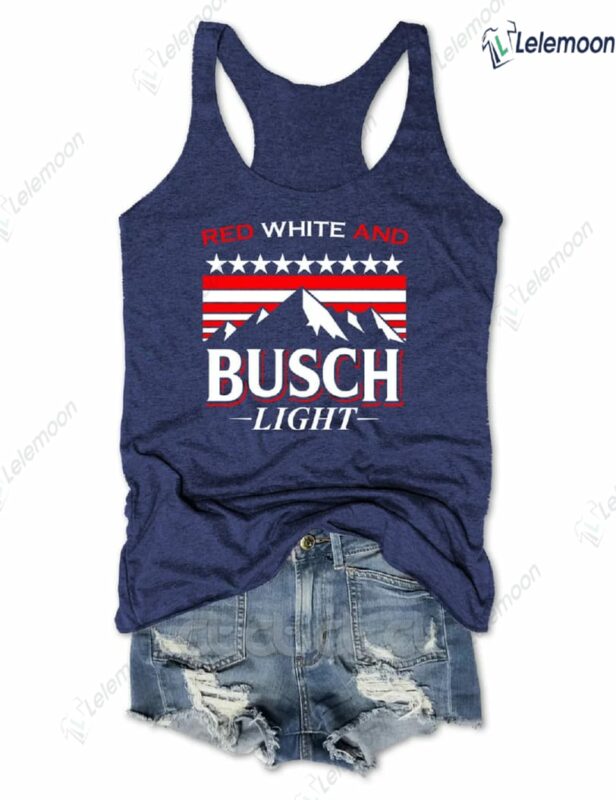 Crafted from comfortable and breathable materials, this tank top is perfect for warm weather occasions and outdoor activities. Its sleeveless design allows for freedom of movement, making it suitable for barbecues, parties, or casual gatherings.
Wearing the Red White And Busch Light Tank Top is a way to express enthusiasm for both American traditions and the enjoyment of a popular beer brand. It serves as a conversation starter, fostering a sense of camaraderie and shared enjoyment among like-minded individuals.
This tank top embraces the carefree and festive nature of patriotic celebrations and encourages individuals to embrace the joyful atmosphere of social gatherings. It exemplifies the fusion of American pride and the relaxed enjoyment of a well-known beverage brand.
Whether worn at Fourth of July parties, tailgates, or backyard cookouts, the "Red White and Busch Light" tank top adds a touch of fun and patriotic flair to any occasion. It celebrates the vibrant spirit of America and the enjoyment of shared experiences with friends and loved ones.
Products Detail:
| | |
| --- | --- |
| Material | Cotton |
| Color | Various Colors |
| Size | From S to 5XL |
| Style option | T-shirts, Hoodies, Tank Tops, Youth Tees, Long Sleeve Tees, Sweatshirts, Unisex V-neck |
| Shipping | From the USA |
| Brand | Lelemoon |