Ryan Gosling I Am Kenough Hoodie Sweatshirt Barbie
Ryan Gosling I Am Kenough Hoodie is the epitome of contemporary style, embodying a perfect blend of comfort and urban chic. Named after the iconic actor and heartthrob, Ryan Gosling, this hoodie reflects his charismatic and effortlessly cool persona.
Crafted from high-quality, soft cotton fabric, the Ryan Gosling I Am Kenough Hoodie offers a luxurious feel against the skin, making it the go-to garment for both lounging and everyday wear. Its relaxed fit and adjustable drawstring hood provide a cozy embrace, ideal for cooler weather or casual outings.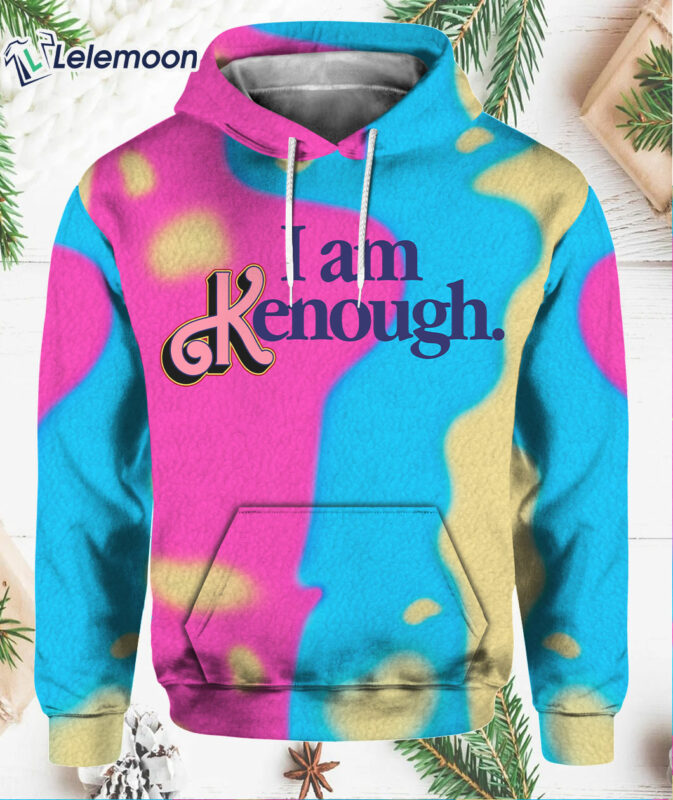 The front of the hoodie boasts a bold yet understated design, with the phrase Ryan Gosling I Am Kenough Hoodie Barbie elegantly embroidered in a contrasting color. This clever play on words speaks volumes about confidence and self-assurance while nodding to Ryan Gosling's own charisma and positive attitude.
Available in an array of versatile colors, this hoodie effortlessly complements various outfits and personal styles, making it a versatile and timeless addition to any wardrobe. Whether paired with jeans and sneakers for a laid-back look or dressed up with chinos and boots for a more refined ensemble, the Ryan Gosling I Am Kenough Hoodie exudes an air of effortless sophistication.
Channel your inner Ryan Gosling with this wardrobe essential that not only represents fashion-forward sensibility but also celebrates the spirit of being comfortable and confident in one's skin. With its impeccable design and homage to the renowned actor, this hoodie is a must-have statement piece for fashion enthusiasts and Ryan Gosling fans alike.
Well-designed crewneck to keep you warm and comfortable all day long.
Profession 3D Print-rich in color, Dye-sublimation printing.
Good quality fabric, which makes you feel good and comfortable when wearing. The wool is naturally breathable and regulates body temperature.
Long-sleeve wool-blend sweater with ribbed cuffs. You can pair up with most of your outfits, suits, jeans, slacks on various occasions and venues. Also, easy to fold and carry on-the-go.
Comfortable and lightweight sweater. Perfect for everyday wear.
Orders are only canceled within 24 hours since you made an order.