Sanford And Son Salvage We Buy And Sell Junk Shirt, Hoodie, Women Tee, Sweatshirt
Introducing the Sanford And Son Salvage We Buy And Sell Junk Shirt, Hoodie, Women Tee, Sweatshirt – a nostalgic and vintage-inspired piece of apparel that pays homage to the beloved Sanford and Son TV show and captures the essence of the salvage and recycling world!
Designed for comfort and style, this shirt offers a relaxed fit for everyday wear. The iconic "Sanford and Son Salvage" logo takes center stage, accompanied by the catchy phrase, "We Buy and Sell Junk." This design is a delightful nod to the classic television series, bringing back cherished memories and adding a touch of retro charm to your wardrobe.
Whether you're a fan of timeless TV shows, have an appreciation for recycling and sustainability, or simply enjoy the vintage aesthetic, this shirt is a fantastic addition to your clothing collection. It serves as a conversation starter, sparking discussions about pop culture and the importance of repurposing in today's world.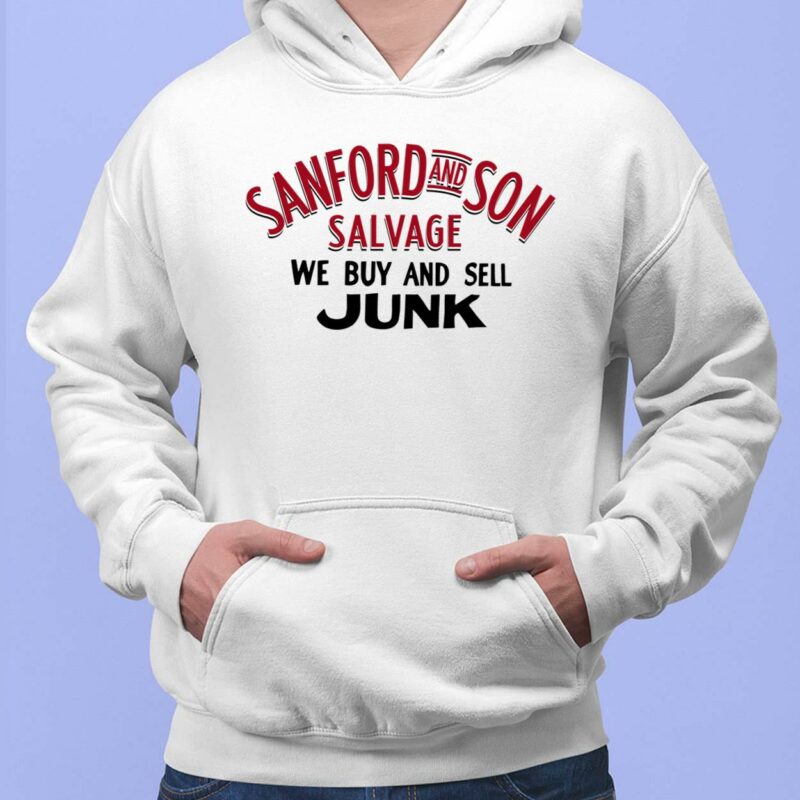 Looking for a unique and thoughtful gift for a friend or family member who appreciates classic TV shows or has a passion for sustainability? This shirt is a wonderful choice that's sure to resonate with their interests.
Embrace the spirit of "Sanford and Son" and celebrate the art of finding value in the unexpected. Wear this shirt proudly and let it serve as a testament to the idea that even seemingly insignificant items can hold worth and potential when given a second chance. So, slip into this retro-inspired shirt, share a nod of recognition with fellow fans, and relive the charm of a cherished era.
Products Detail:
| | |
| --- | --- |
| Material | Cotton |
| Color | Various Colors |
| Size | From S to 5XL |
| Style option | T-shirts, Hoodies, Tank Tops, Youth Tees, Long Sleeve Tees, Sweatshirts, Unisex V-neck |
| Shipping | From the USA |
| Brand | Lelemoon |