Steppin Into Juneteenth Shirt, Hoodie, Sweatshirt, Women Tee
Steppin Into Juneteenth Shirt, Hoodie, Sweatshirt, Women Tee is a powerful and meaningful garment that commemorates the historical significance of Juneteenth. This shirt is a symbol of unity, celebration, and progress, honoring the emancipation of enslaved African Americans in the United States.
The front of the shirt features a captivating and thought-provoking design that pays homage to Juneteenth. It may include vibrant colors, intricate patterns, or symbolic imagery that represent the spirit of freedom and resilience. The design serves as a visual reminder of the progress made and the ongoing journey towards equality and justice.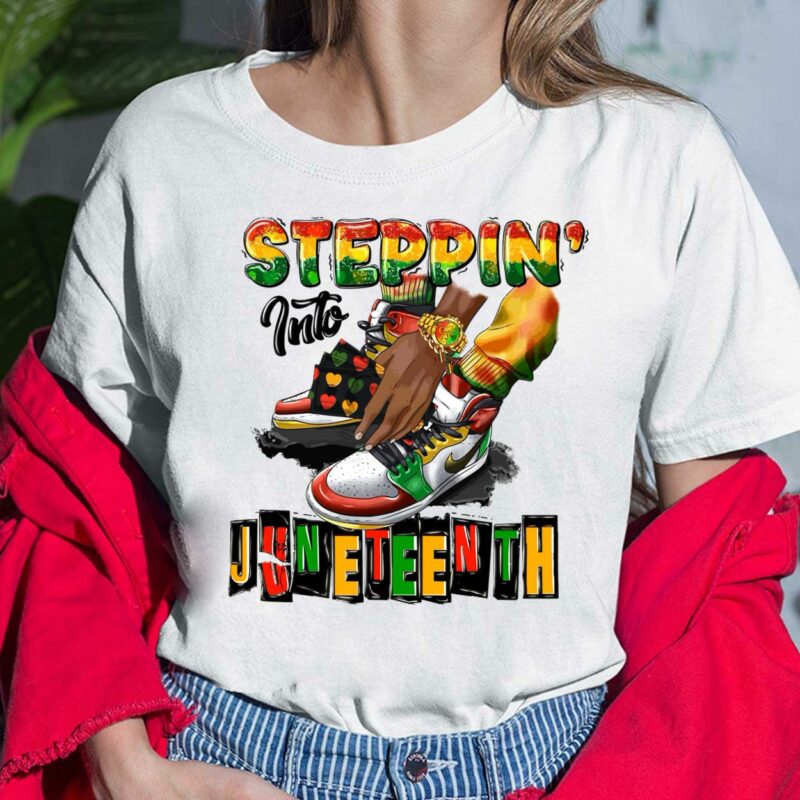 Crafted from high-quality materials, the shirt ensures comfort and durability. Its soft fabric offers a comfortable fit, making it suitable for wearing during Juneteenth celebrations or as everyday casual wear. The shirt is available in various sizes, allowing individuals to find their perfect fit and confidently showcase their support for Juneteenth.
The "Steppin Into Juneteenth" shirt serves as a symbol of solidarity and remembrance, reminding wearers and those who see it of the importance of Juneteenth. By wearing this shirt, individuals can express their commitment to equality, social justice, and honoring the legacy of African American history. It is a garment that embodies the spirit of Juneteenth and encourages conversations about its significance and continued relevance in society.
Products Detail:
| | |
| --- | --- |
| Material | Cotton |
| Color | Various Colors |
| Size | From S to 5XL |
| Style option | T-shirts, Hoodies, Tank Tops, Youth Tees, Long Sleeve Tees, Sweatshirts, Unisex V-neck |
| Shipping | From the USA |
| Brand | Lelemoon |