The Simpsons Kiss My Hairy Yellow But Vintage T-Shirt, Hoodie, Sweatshirt
The Simpsons Kiss My Hairy Yellow But Vintage T-Shirt is a humorous and irreverent piece of clothing that pays homage to the iconic animated television series, "The Simpsons." This shirt combines elements of nostalgia, humor, and pop culture references.
The phrase "Kiss My Hairy Yellow Butt" is a playful and cheeky way of expressing defiance or a rebellious attitude, often used in a humorous context. In this case, it's attributed to the character Homer Simpson, who is known for his witty one-liners and amusing antics on the show. The "hairy yellow butt" refers to Homer's distinctive appearance, with his yellow skin and balding head.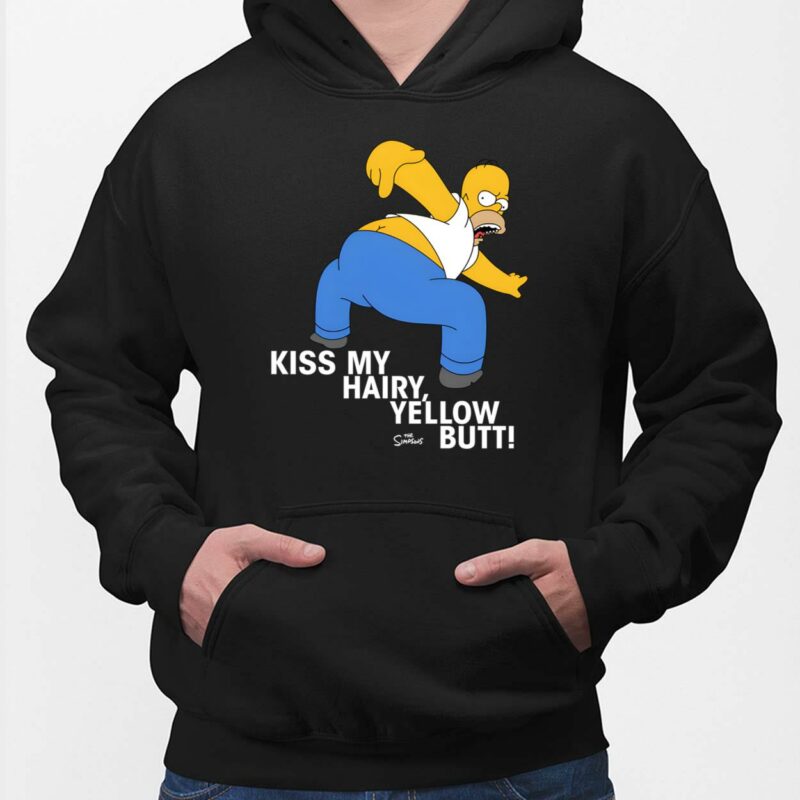 The term "vintage" suggests that this t-shirt has a retro or nostalgic design, possibly featuring artwork or graphics reminiscent of earlier seasons of "The Simpsons." It may showcase classic scenes, characters, or motifs from the show's long history, appealing to fans who have followed the series since its inception.
Wearing this t-shirt is a way for fans of "The Simpsons" to express their love for the show's humor and characters while also adding a touch of humor and irreverence to their own style. It's a playful nod to the show's enduring popularity and its ability to resonate with fans of all ages.
Products Detail:
| | |
| --- | --- |
| Material | Cotton |
| Color | Various Colors |
| Size | From S to 5XL |
| Style option | T-shirts, Hoodies, Tank Tops, Youth Tees, Long Sleeve Tees, Sweatshirts, Unisex V-neck |
| Shipping | From the USA |
| Brand | Lelemoon |