Working Harder Than An Ugly Stripper Sweatshirt
Step into a realm where humor and determination collide with the Working Harder Than An Ugly Stripper Sweatshirt. This bold attire is more than just clothing; it's a lighthearted declaration of your relentless work ethic and irreverent sense of humor.
Imagine a world where you conquer challenges with a smile, where you navigate the hustle and bustle of life with unwavering determination. Working Harder Than An Ugly Stripper Sweatshirt captures the essence of this indomitable spirit, weaving threads of empowerment and wit.
Crafted with a blend of comfort and unabashed boldness, this sweatshirt features playful designs that embrace the humor in your tenacity. Tongue-in-cheek typography and cheeky imagery adorn the fabric, invoking laughter and camaraderie. Each detail is a reminder that hard work and humor can go hand in hand.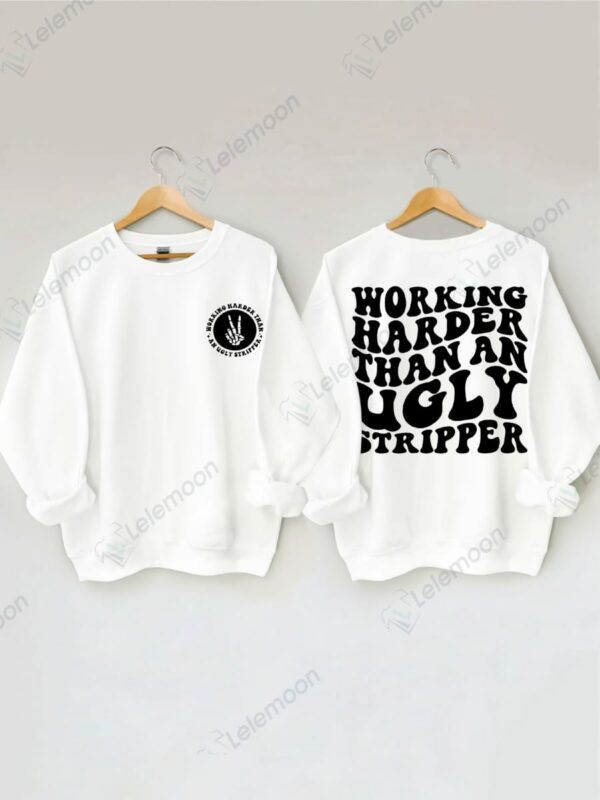 Wearing this sweatshirt is like donning a badge of resilience, proudly announcing that you're willing to put in the effort to achieve your goals, no matter how challenging the journey may be. It's a conversation starter, an invitation for fellow go-getters to share their stories of overcoming obstacles and pushing forward with determination. As you put it on, you're not just wearing a garment; you're embracing a mindset that refuses to back down.
Working Harder Than An Ugly Stripper Sweatshirt isn't just about humor; it's a symbol of perseverance and confidence. Whether you wear it as a reminder of your determination or as a way to inject humor into your day, this sweatshirt allows you to face challenges with a grin, proving that you're working harder and smarter, no matter what obstacles lie ahead.
Products Detail:
| | |
| --- | --- |
| Material | Cotton |
| Color | Various Colors |
| Size | From S to 5XL |
| Style option | T-shirts, Hoodies, Tank Tops, Youth Tees, Long Sleeve Tees, Sweatshirts, Unisex V-neck |
| Shipping | From the USA |
| Brand | Lelemoon |