Eat Mushrooms See the Universe Shirt
Eat Mushrooms See the Universe Shirt is an intriguing and psychedelic fashion statement that embraces the mind-expanding and transformative experiences associated with consuming psychedelic mushrooms. This shirt combines a thought-provoking message with vibrant and captivating visuals.
The design of the shirt typically aims to evoke a sense of wonder and exploration. The base color of the shirt may vary, but it is often chosen to enhance the visibility of the design and complement the psychedelic theme. On the front of the shirt, captivating illustrations or graphics depict various elements associated with the universe, such as stars, galaxies, planets, or cosmic patterns. These visuals often incorporate bright and vivid colors, capturing the cosmic and otherworldly nature of the experience.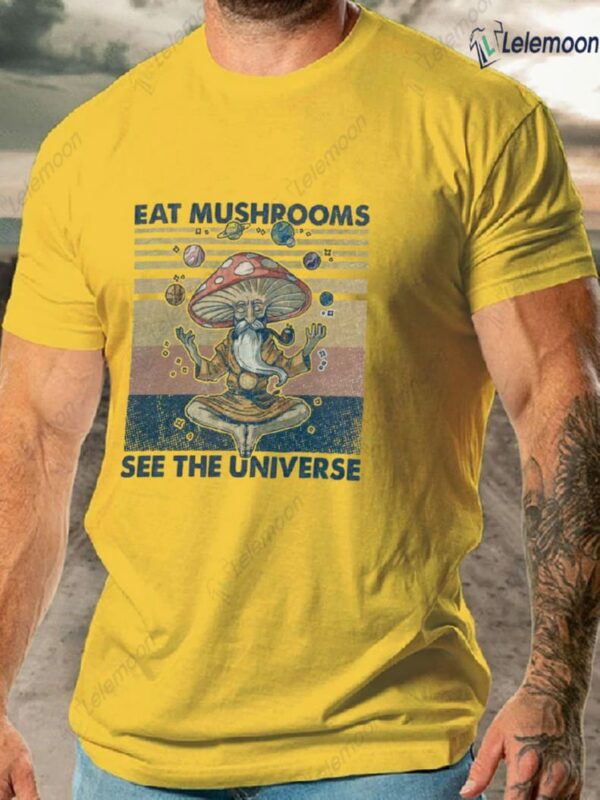 The shirt is typically made from comfortable and durable materials, such as cotton or a blend, ensuring a pleasant wearing experience. It may come in various styles, such as crew neck or V-neck, and is available in different sizes to suit different body types.
By wearing the "Eat Mushrooms See the Universe" shirt, individuals can express their appreciation for psychedelic experiences and the exploration of consciousness. It serves as a reminder of the profound potential for personal growth and expanded perspectives that can be found in the psychedelic realm. This shirt can be a conversation starter, sparking discussions about spirituality, consciousness, and the mysteries of the universe.
Products Detail:
| | |
| --- | --- |
| Material | Cotton |
| Color | Various Colors |
| Size | From S to 5XL |
| Style option | T-shirts, Hoodies, Tank Tops, Youth Tees, Long Sleeve Tees, Sweatshirts, Unisex V-neck |
| Shipping | From the USA |
| Brand | Lelemoon |